Are you looking for the best Sheet Metal Fabrication Services near Los Angeles?
Posted By Michaels Sheet Metal On November 01, 2023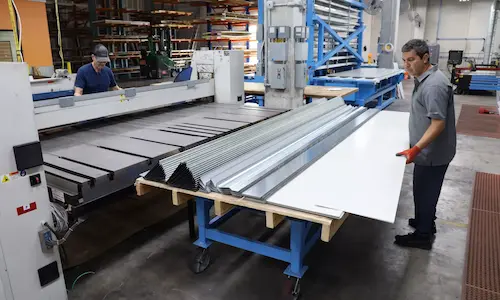 When searching for the best sheet metal fabrication services near Los Angeles, look at Michaels Sheet Metal. Our commitment to quality, precision, and customer satisfaction is unwavering.
Whether you have an architectural project, HVAC components, or need precision machining, we have the expertise, state-of-the-art equipment, and experienced professionals to bring your vision to life.
In this article, we are here to guide you through the process and shed light on what sets our company apart in sheet metal fabrication.
1. Our Commitment to Quality and Precision
At Michaels Sheet Metal, our dedication to providing top-notch sheet metal fabrication services is unwavering. We understand that every project, big or small, requires precision, skill, and expertise. Our highly trained team of professionals is well-equipped to handle various custom sheet metal fabrication projects, from HVAC components to architectural metalwork.
2. State-of-the-Art Facilities and Equipment
Our commitment to excellence goes beyond our workforce. We have invested in cutting-edge machinery and technology to execute every project precisely and efficiently. From laser cutting to CNC machining, our equipment can produce high-quality results that meet and exceed industry standards.
3. Custom Solutions Tailored to Your Needs
One size does not fit all in the world of sheet metal fabrication. We offer custom solutions tailored to your specific needs because we understand that each project is unique. Our experts work closely with you to ensure your vision is brought to life while adhering to strict quality standards.
4. Diverse Capabilities
Michaels Sheet Metal offers a diverse range of services, including but not limited to:
1. Architectural Metalwork: From custom railings to ornamental metal fixtures, we have the expertise to turn your architectural visions into reality.
2. HVAC Components: Businesses across Los Angeles trust our HVAC sheet metal fabrication services to create ductwork and components that meet industry standards.
3. Precision Machining: We employ advanced CNC techniques to create intricate parts and components for various industries.
4. Welding Services: Our skilled welders are experts in joining metal parts with precision, ensuring structural integrity and durability.
5. Compliance and Certification
Michaels Sheet Metal takes safety and compliance seriously. We adhere to all industry regulations and maintain the necessary certifications to guarantee the quality and safety of our work. When we choose you, you can trust that we will complete your project following the highest standards.
6. Unmatched Experience and Expertise
With decades of experience in the sheet metal fabrication industry, we have amassed a wealth of knowledge and expertise. Our team deeply understands materials, techniques, and design principles, allowing us to deliver outstanding results consistently.
7. Competitive Pricing
Top-notch quality doesn't have to come with a hefty price tag. At Michaels Sheet Metal, we offer competitive pricing without compromising on the quality of our work. We aim to provide cost-effective solutions that meet your budget while exceeding your expectations.
8. Exceptional Customer Service
Your satisfaction is our top priority. From the moment you contact us to the final delivery of your project, we maintain open lines of communication and ensure that you are well informed about the progress. Our customer service is as exceptional as our fabrication services.
Contact Us today to discuss your project and experience the Michaels Sheet Metal difference. Your project deserves nothing less than the very best in sheet metal fabrication.