Are you looking for Trustworthy Metal Roofing Contractors in Beverly Hills?
Posted By Michaels Sheet Metal On November 16, 2023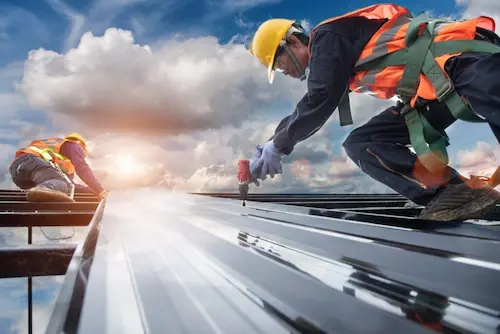 When it comes to ensuring the structural integrity and longevity of your home or business in Beverly Hills, you can't underestimate the importance of a reliable and experienced roofing contractor. At Michaels Sheet Metal, we take pride in our commitment to quality and excellence in metal roofing.
As your trusted source for all things related to metal roofing, we're here to provide valuable insights into what makes a roofing contractor trustworthy and how we fit the bill.
1. Unparalleled Expertise
In the ever-evolving world of metal roofing, experience and expertise matter more than ever. Our team at Michaels Sheet Metal boasts a wealth of knowledge and a proven track record in the industry. With years of experience, we have completed numerous projects throughout Beverly Hills, providing our clients with top-notch solutions tailored to their unique needs.
2. Licensed and Insured
Trustworthiness starts with accountability, which is precisely what we offer at Michaels Sheet Metal. We are fully licensed and insured, which means you can have peace of mind knowing that your roofing project is in safe hands. Our certifications are a testament to our commitment to following industry standards and regulations, ensuring the highest level of safety and quality for our clients.
3. Quality Materials and Craftsmanship
At Michaels Sheet Metal, we understand that a metal roof is a significant investment. That's why we only use the highest quality materials and employ skilled artisans dedicated to delivering superior results. We source our materials from reputable suppliers, and our team of experts meticulously crafts each roofing system to stand the test of time.
4. Transparent Pricing
Transparency is the cornerstone of trust in any business relationship. We firmly believe in open and honest communication with our clients, especially regarding pricing. We provide detailed, itemized estimates so you know exactly what you're paying for. There are no hidden fees or surprises—just a clear breakdown of the costs associated with your roofing project.
5. Client-Centric Approach
Our commitment to excellence extends to our approach to client service. We understand that every roofing project is unique, and we take the time to listen to your specific needs and requirements. Our team is committed to tailoring a solution that aligns with your vision while offering professional advice to ensure the longevity and functionality of your metal roof.
6. Local Expertise
Beverly Hills is a unique community with distinct architectural styles and climate considerations. Our local expertise allows us to navigate these nuances effectively. We understand the demands of the local climate and will recommend the best roofing solutions to protect your property from the elements while complementing its aesthetic appeal.
7. Satisfied Clients Speak Volumes
One of the best ways to gauge the trustworthiness of a metal roofing contractor is through the experiences of past clients. At Michaels Sheet Metal, we are proud to have many satisfied customers benefitting from our services. Their testimonials and reviews reflect our commitment to quality, reliability, and professionalism.
8. Continuous Education and Innovation
The metal roofing industry is constantly evolving with new materials and techniques. To ensure that we remain at the forefront of the industry, we invest in ongoing education and training for our team. This dedication to staying up-to-date with the latest advancements allows us to offer cutting-edge solutions that are both efficient and durable.
9. Environmental Responsibility
We also recognize the importance of sustainability in today's world. Our roofing solutions are not only designed for durability but are also environmentally responsible. We offer eco-friendly options and work with materials that can be recycled, reducing the impact on the environment.
When searching for trustworthy metal roofing contractors in Beverly Hills, Michaels Sheet Metal is your go-to choice.
We are committed to ensuring the success of your roofing project from start to finish with a focus on quality, unmatched expertise, transparent pricing, and a client-centric approach. We have built our reputation on trust and excellence, and we look forward to serving the Beverly Hills community for many years. Contact us today for all your metal roofing needs and experience the difference with Michaels Sheet Metal.