Custom sheet metal fabrication in Santa Monica: Meet the experts
Posted By Michaels Sheet Metal On October 18, 2023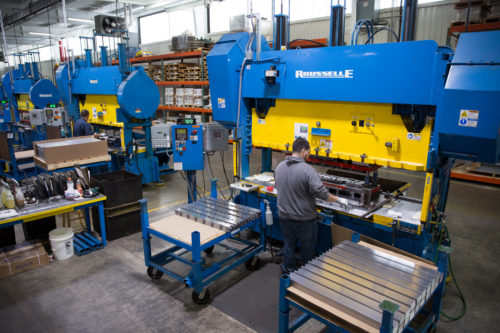 Not every sheet metal company can provide quality custom sheet metal fabrication in Santa Monica, but one name stands out as a trusted and experienced expert in the field: Michaels Sheet Metal.
With decades of experience, a commitment to quality, and a passion for turning metal into works of art, we have become the go-to choice for businesses and individuals seeking top-notch sheet metal solutions.
1. Our Journey
For 30 years Michaels Sheet Metal has focused on developing a team of dedicated and highly skilled craftsmen. We are the experts in custom sheet metal fabrication and am proud of our quality and capabilities.
2. Unparalleled Expertise
Our team comprises a group of skilled artisans who have honed their craft over many years. We are passionate about metalwork, which shows in every project we undertake. From elemental sheet metal bending to complex, intricate designs, we have the skills and experience to bring your ideas to life.
3. State-of-the-Art Facilities
At Michaels Sheet Metal, we understand that technology is vital in delivering precision and perfection in sheet metal fabrication. That's why we've invested in cutting-edge machinery and equipment to ensure that every piece we produce meets the highest standards of quality and accuracy.
4. Customization at its Finest
One of the reasons we are known as experts in the field is our commitment to customization. We understand that no two projects are the same, so we take the time to listen to our client's unique needs and requirements. Whether it's a one-of-a-kind art installation, a functional metal component for a commercial building, or anything in between, we have the expertise to tailor our services to your project.
5. Materials Matter
The quality of sheet metal used in fabrication is paramount, and we at Michaels Sheet Metal understand this better than anyone. We work with a wide range of materials, including stainless steel, aluminum, copper, and more, ensuring that your project is beautiful but also durable and long-lasting.
6. A Collaborative Approach
Collaboration is critical to delivering outstanding results. When you choose Michaels Sheet Metal as your fabrication partner, you're not just hiring a company but entering into a partnership. We closely collaborate with our clients, general contractors, developers and designers throughout the process, from initial design discussions to the final installation, ensuring we realize your vision perfectly.
7. Precision and Attention to Detail
Our commitment to precision and attention to detail is what sets us apart. We execute every cut, bend, and weld with utmost care and precision. We take pride in meeting even the most demanding specifications and delivering flawless results.
8. Sustainable Solutions
At Michaels Sheet Metal, we recognize our responsibility to the environment. That's why we prioritize sustainability in our operations. We utilize eco-friendly practices, recycle materials whenever possible, and strive to minimize waste, all while delivering top-tier sheet metal fabrication services.
9. A Proven Track Record
Our portfolio speaks for itself. Over the years, we've worked on a wide range of projects, each with unique challenges and requirements. We have completed residential renovations and commercial installations visible throughout Santa Monica and beyond.
10. Customer Satisfaction
Our success is not only measured by the quality of our work but also by the satisfaction of our clients. We take immense pride in the positive feedback we receive from those who have trusted us with their projects. Their testimonials stand as a testament to our dedication to excellence.
Santa Monica is known for it's taste in the arts and Custom Sheet Metal Fabrication is definitely a part of that world. Michaels Sheet Metal shines as a beacon of expertise, creativity, and craftsmanship. We are not just metalworkers; we are artists who transform metal into masterpieces. When you choose us as your fabrication partner, you're not just getting a service but a commitment to excellence.
So, whether you have a unique metalwork project in mind or need a trusted partner for your commercial metal fabrication needs, look no further than Michaels Sheet Metal. We are the experts you can rely on to bring your vision to life with precision, passion, and perfection.