Importance of Roofing and Gutters in the Los Angeles Area
Posted By Michaels Sheet Metal On December 29, 2022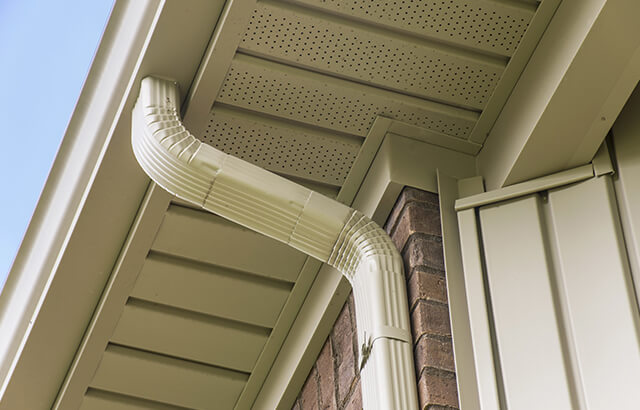 Every building has a roof to protect its interior space from rain, snow, ice, temperature fluctuations, and pests. A properly constructed home or commercial building will have a roof that is adequately pitched to shed water. As important as the roof is properly equipped with gutters and downspouts as necessary to carry the water away from the structure and below-grade foundation. Roofing and gutters are integrated systems designed to keep you dry and protect you from the natural elements.
You may be wondering if guttersare required in the Los Angeles area of Southern California. Logic tells us that we might not need a strategically designed system of components in a notably dry climate but Southern California is known for getting heavy amounts of rain in a short period of time, making water run-off a critical component to building longevity.
While it is true that most years we see very little rainfall but one day of significant precipitation can cause serious damage if not properly directed away from the building. Without a well-pitched roof, perimeter gutters, and vertical downspouts, moisture damage to eaves, walls, and foundations can be costly repairs.
Benefits of Roofing and Gutters
Gutters are not always required by local building codes, so why do you need them? The roof is sloped to shed water. Gutters are channels of troughs installed at the perimeter of the roof edge to collect the water that the roof sheds. The gutters are gradually pitched to direct the collected water toward vertical tubes called downspouts. Downspouts dispense the water onto the landscape at a distance from the house or building. Alternatively, downspouts can go into the ground to a more sophisticated drainage collection system. All of this is essential for keeping moisture from entering your building or home.
Moisture that has found its way inside is often hard to detect. Over time, this can result in mold, mildew, and deteriorated wall, ceiling, and floor surfaces. Well-designed and properly installed roofing and gutters can prevent this kind of damage.
In Southern California, there is another reason to have thoughtfully designed roofing and gutter systems. Because rainfall is sporadic, the Los Angeles area is prone to drought and even wildfires. You can use your roofing drainage to direct water into collection barrels. These barrels are eco-friendly, allowing you to recycle rainwater. The collected water can be used to water plantings, douse small fires, or can be filtered for drinking and bathing.
Types of Roofing and Gutters
At Michaels Sheet Metal, we highly recommend a metal roof integrated with metal gutters and downspouts.
There are many advantages to a metal roof. A standing seam metal roof is durable, energy efficient, fire resistant, long-lasting, and sustainable. Standing seam metal roofs are available in a variety of materials, finishes, and colors. The most common metal roofing materials are aluminum, aluminum/zinc alloy, steel, and copper.
Metal gutters and downspouts are available in a variety of profiles and materials that will match the roof. Generally, gutter sizes are either 5 inches or 6 inches. There are two standard profiles: decorative ogee (k-style) and half-round. At Michaels Sheet Metal, we can also customize the gutters to match the unique style of your home or building.
To Sum it Up
A building without a properly designed roof is not going to offer adequate protection from the elements. A roof without gutters and downspouts is not enough to prevent water damage and leaks at the eaves, building face, and foundation.
When you are considering choosing a roof for your new construction or replacing an existing roof, consider a metal gutter and roof system. The benefits outweigh any cost related downsides. Michaels Sheet Metal is a licensed, professional, and skilled sheet metal contractor in Southern California that can advise you on the best roofing and gutter systems for your specific project.
We provide Gutters and Roofing services in the following cities: West Hollywood, Agoura Hills, Arcadia, Beverly Hills, Hermosa Beach, La Cañada Flintridge, Long Beach, Malibu, Manhattan Beach, Monrovia, Palos Verdes Estates, Pasadena, Pomona, Rolling Hills Estates, San Marino, Santa Monica, Sierra Madre, South Pasadena, Alhambra, Bradbury, Duarte, Santa Clarita, Calabasas, Rancho Palos Verdes, Camarillo, Newbury Park, Oak View, Simi Valley, Thousand Oaks, Ventura, Westlake Village, Fullerton, Irvine, La Habra, La Palma, Laguna Niguel, Laguna Woods, Lake Forest, Los Alamitos, Mission Viejo, Placentia, Needles, Running Springs, Morongo Valley and Big River
Contact us today!