Want a Metal Roof Contractor you can trust? Start by choosing Michael Sheet Metal.
Posted By Michaels Sheet Metal On November 08, 2023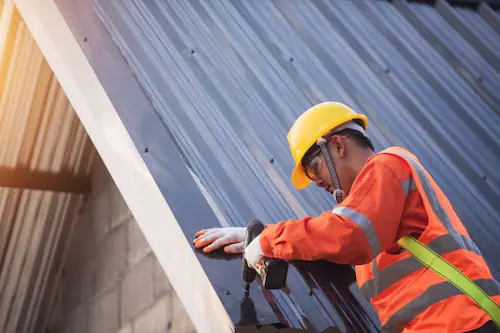 Are you in the market for a reliable metal roof contractor you can trust? Look no further than Michael's Sheet Metal.
Our unwavering commitment to quality, expertise, and exceptional customer service makes us the ideal choice for all your metal roofing needs.
1. Why Choose Michaels Sheet Metal?
Choosing the right contractor for your metal roofing project is a critical decision. We understand that and want to assure you that you're in good hands with Michaels Sheet Metal. Let me share with you the reasons why we stand out in the industry:
2. Unmatched Expertise
Our journey as Michaels Sheet Metal began over two decades ago. Since then, we've honed our skills, expanded our knowledge, and invested in state-of-the-art equipment to become leaders in the metal roofing industry. Our team of experts consists of certified professionals who understand the intricacies of metal roofing inside and out.
3. Commitment to Quality
When you entrust your roofing project to us, you choose quality above all else. We source our materials from trusted suppliers, ensuring that every piece of metal used in your roof meets the highest standards. Our commitment to quality extends to our artistry, and we take pride in delivering functional and aesthetically pleasing roofs.
4. Personalized Solutions
At Michaels Sheet Metal, we understand that every roofing project is unique. We tailor our approach to your specific needs and preferences. We take the time to understand your goals, budget, and vision, then craft a customized plan to achieve the best possible results. We are your partner in turning your dream roof into reality.
5. Cutting-Edge Technology
We stay on the cutting edge of roofing technology to provide the best service. Our use of modern equipment and techniques ensures that your metal roof is durable, energy-efficient, and environmentally friendly. We are committed to keeping your home comfortable while reducing your carbon footprint.
6. Transparent Communication
Effective communication is at the heart of any successful project. We believe in keeping our clients informed every step of the way. You'll always be aware of the progress of your roofing project. Our transparent communication ensures that you're always in the loop.
7. Our Work Speaks for Itself
While we take great pride in our company's history and expertise in each project, our true satisfaction comes from the success stories we create for our clients. Here are some recent projects that showcase our capabilities:
8. The Classic Elegance
One of our clients wanted a metal roof to enhance their historic home's classic charm. We worked closely with them to choose the perfect color and profile, resulting in a roof that preserved the home's heritage and increased its curb appeal.
9. The Eco-Friendly Upgrade
Another client was concerned about their home's energy efficiency. We introduced them to our energy-efficient roofing options. They chose a metal roof with solar panels, significantly reducing their energy bills and environmental impact.
10. The Contemporary Beauty
A modern home required a roof that matched its sleek design. Our team suggested a standing seam metal roof, creating a perfect blend of style and functionality. The homeowners were thrilled with the result.
11. Our Dedication to You
Our mission at Michaels Sheet Metal is to provide a roofing solution that exceeds your expectations. We understand that your home is your sanctuary, and your roof is its protective shield. As a member of the Michaels Sheet Metal family, you can expect:
• A dedicated team that treats your project as if it were their own.
• A roofing solution that not only withstands the test of time but also adds value to your property.
• A seamless, stress-free experience, from the initial consultation to the final inspection.
12. Get Started Today
Your journey to a trustworthy metal roofing contractor begins with Michaels Sheet Metal. We take great pride in our history, commitment to quality, and ability to make your roofing dreams come true. When you choose Michaels Sheet Metal, you select a partner who will be with you every step of the way.
Contact us today if you're ready to take the first step toward your new metal roof. We're eager to learn about your project and show you why we are the contractor you can trust.
Your dream roof is just a phone call away. Choose Michaels Sheet Metal, where quality and trust go hand in hand.